Because of our unique integrated manufacturing facility we are able to bring to you the full benefits of our expertise. Our experience, commitment to quality and delivering on time give our customers a complete service. From design to production to final assembly.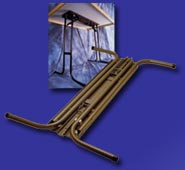 Table Leg - Design to Assembly
Pressmatic works in partnership with its clients to bring new products successfully to production on time. Using our in house design and tooling facilities we satisfied the needs of a client by producing a Folding table mechanism which had to be no more than 27 millimetres deep when in the closed position.
Pressmatic will work with you from initial design, through the production to final assembly, ensuring your product is on time every time.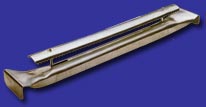 Hanging Rail
The 18" hanging rail is manufactured by Pressmatic for the removal industry. With over twenty thousand produced every month Pressmatic are the UK's leading manufacturer of this key component for the leading British Companies in the removal and garment manufacturing industry.
Pressmatic's ability to handle extended runs of products can make your requirements to specification, on time, every time.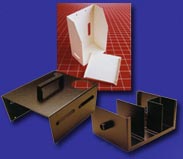 Product Housings
Pressmatic recognise the burden of costs incurred for clients Tooling up for the first time. With our own in-house Tool design and manufacture facility we are able to offer a shared cost option for tooling. This allows us to produce batch runs tailored to meet your needs.
This is just one example of how Pressmatic work closely with you to decide the most economical method of producing the finished component. From a single pressing to a multi tooled product, you can be sure that you are getting a quality product at the right price.